Notifications
When do I receive notifications?
You can receive notifications when:
you set up a reminder
someone delegates a task to you
someone mentions you with @ in a comment
a task becomes due
Remember, that your notifications are private. If you set a reminder for a task, only you will be notified about it and it will be visible in Reminders section in Incoming.
All tasks you are notified about will automatically appear on your Incoming list.
How to set up reminders?
Do you have an urgent assignment and you want to make sure you won't forget about it? You can set up a reminder for a task so you will be notified about it at the chosen time.
To do this, open a task and tap on "Remind me".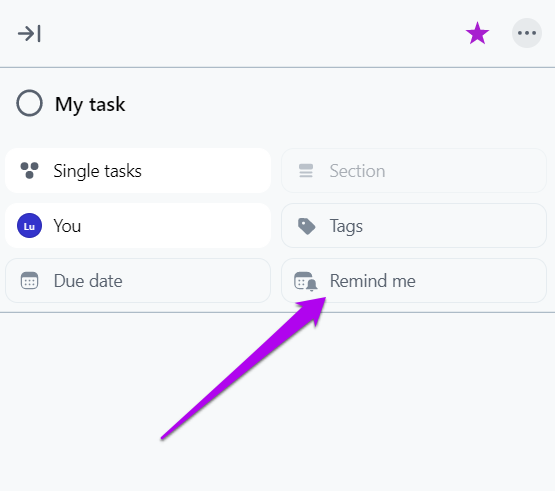 You can choose from the list of possbile options (1) or you can enter your own date and time (2).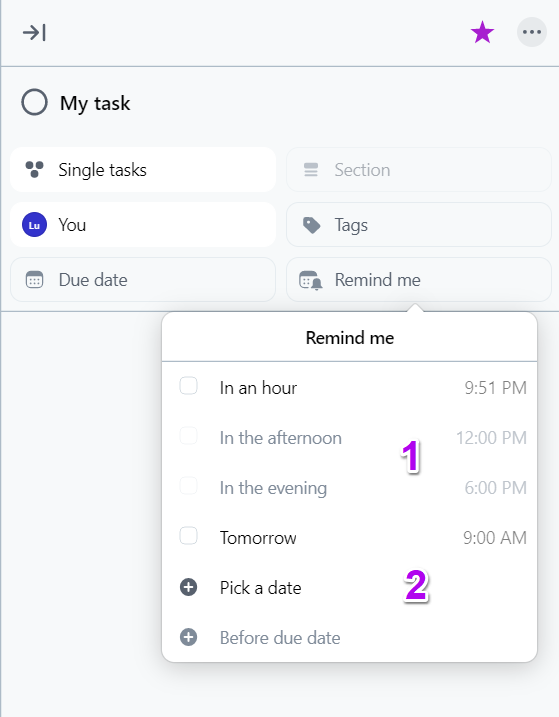 Please, note that you can set a reminder even for tasks without any due date.
It is also possible to set more reminders for one task. To do this, simply tap on the reminder button once again and choose one more date.
Also, you don't have to choose the exact time. If you set a reminder only for a day, you will be notified at 9 am of the day when the task becomes due.
Delegation and mentions
If someone delegates a task to you, you will be notified about it.
The same happens when someone uses a @ with your username in a comment.
If you want to notify others, you can add a mention to your comment. You can choose one of the following mentions:
"@following" - only those following the project will be notified
"@all" - all team members with access to the project will be notified
No notifications - what to do?
If you don't receive any notifications, even though you should, please go to Settings on your mobile device and check whether notifications from Nozbe are allowed.
Turn on the Notifications on iOS device
On your iOS device, you need to open the system's Settings -> Apps and choose Nozbe Teams from your app list. Then tap on the Notifications and activate the "Allow Notifications" option.
Turn on the Notifications on Android device
On an Android smartphone, you can turn on your push notifications directly in the app's Settings. Go to Settings -> Notifications settings and turn on the "Show notifications" option. You will be able to choose different kinds of notifications then.
Notifications on Android app
Notifications on Android are divided into two groups:
Time Sensitive: Due Dates, Reminders
Rest: Mentions, Task assignment
You will receive Time Sensitive notifications the moment they are sent on your device from our servers.
Other notifications may not come up exactly the moment they are sent. It can happen when your phone is e.g. in Doze mode (you didn't use your device for a longer moment). You will receive this kind of notification during the routine notifications check or when you receive a Time Sensitive notification from any other app.
Thanks to this Nozbe Teams won't drain your battery during the day.
Notifications on Web / PWA app
You can also receive notifications from Nozbe Teams in your browser or PWA app. For now, web notifications are supported by Chrome, Firefox, and Edge.
when you log in to your Nozbe Teams account in one of those browsers, you will see a following message: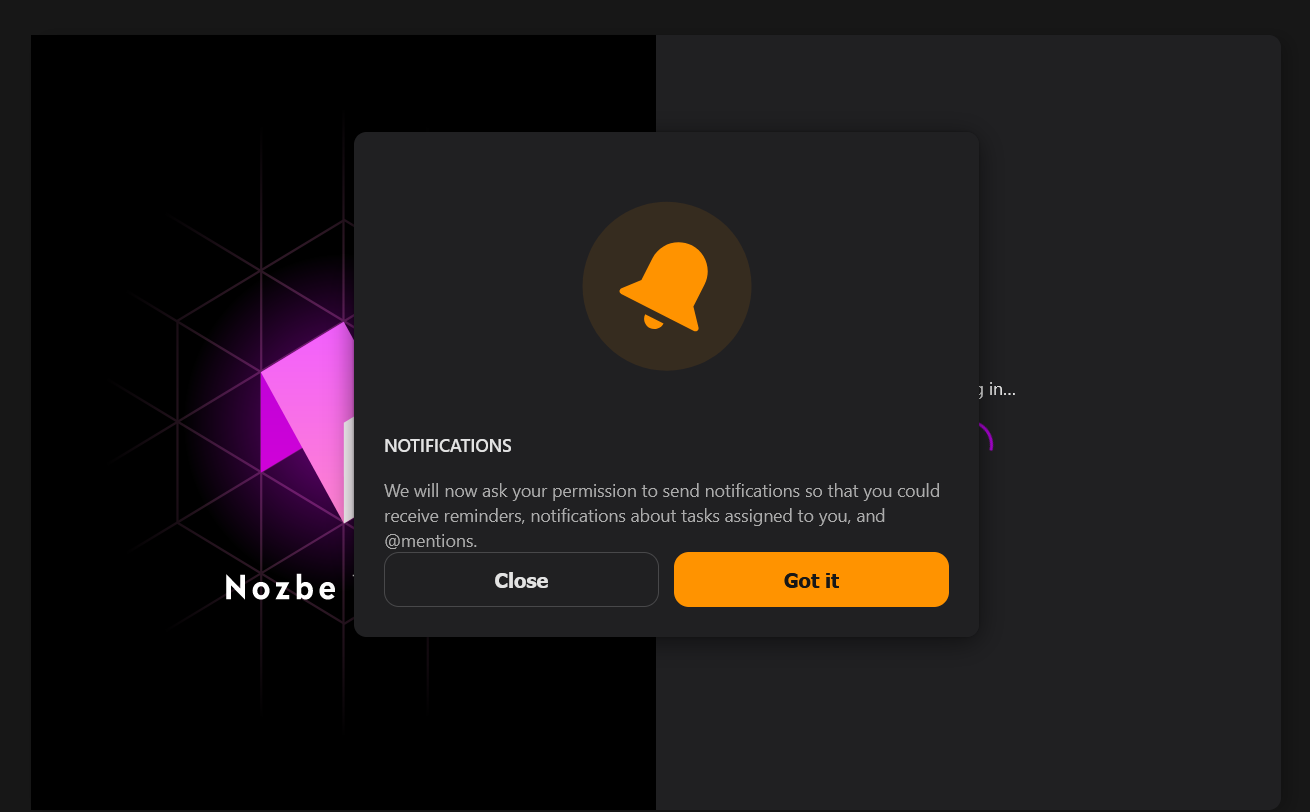 Tap on "Got it" to activate the notifications. If you tap on the "Close" button, you will not receive web notifications from Nozbe Teams.
If you choose to receive them, you will have to confirm it again within the browser or PWA app.

When you receive a web notification and click on it, you will open a tab with the task mentioned in that notification.